I had a question from an Academy member the other day about, spam laws and tracking subscriber information such as when they subscribed and the IP address they used when they signed up.
While some other systems make this information readily and easily accessible, ActiveCampaign seems to make it a bit harder to find and work with. However rest assured the information is there for you to access if needed.
If you go to a particular contact record in ActiveCampaign, you will see a section that shows you what Tags a contact has, what Lists they are on and what automations they are in.

Simply click on the List in question and you will see a dialogue box pop up, showing you the date and time the contact, subscribed, their status, the source of their subscription, and if able, their IP address when they subscribed.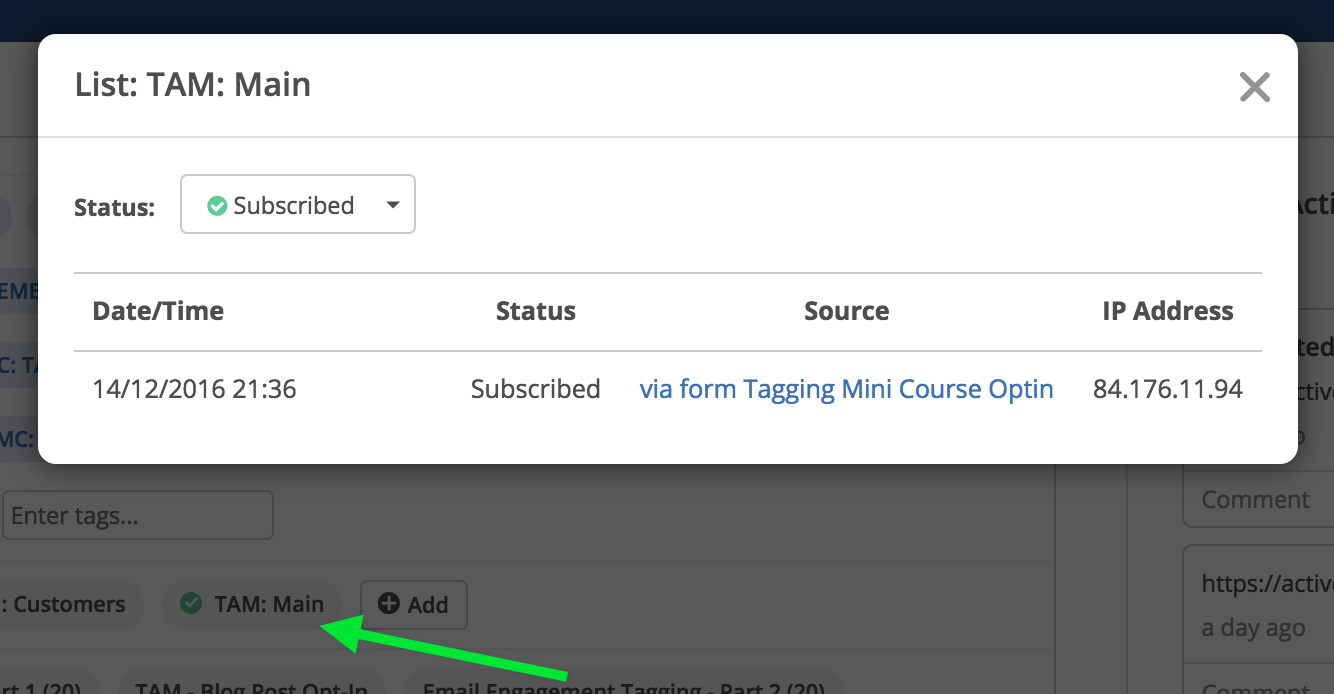 I say "if able" because if the contact is coming in through an API connection from something like Thrive Leads or ClickFunnels, you will not see their IP address, you will see a dummy value like 127.0.0.1.
This area will also keep a running history of their status, if they unsubscribed, or their email address has bounced, or if they have manually been removed from a list by an admin.
In addition, you can also use the drop down menu at the top of the box to manually change the status of a contact.
Possible values here are:
Unconfirmed – They have signed up, but failed to confirm the second half of a double optin.
Subscribed – Self explanatory, they are subscribed to the list.
Unsubscribed – Self explanatory, they are unsubscribed from the list.
Bounced – You have sent them an email and ActiveCampaign has detected either a soft or hard bounce.

This is useful when a contact accidentally unsubscribes and wants to be added back to the list.
I have also seen a number of occasions where a contact may have had a bogus 'bounced' status applied to them by the system and you need to change them back to a 'subscribed' 'status.
I hope this tip makes your life with ActiveCampaign a little easier.
If you have any ideas for other Tuesday Tips just leave them in the comments below.
If you are struggling to really put the power of ActiveCampaign to use in your business the check out our best -selling ActiveCampaign training and get stuck in to really putting marketing automation to work in your business.